Getting it Together: Hatching Ideas and Alliances
What happens when experts from across sectors come together to help solve one of humanity's most difficult challenges?  From my assessment:
Good ideas get better
New alliances and partnerships are built
People have fun
A few weeks ago, we were lucky to host four half-day climate action workshops at the new Hatchbox innovation space in the Wynyard Quarter to help us hone down and refine a long list of climate solutions.  Many of those solutions, it should be noted, came from and included those that you've proposed right here. 
Each workshop had 40-50 experts and leaders from industry and the private sector, academia, community organisations, central government and local government.  We took them through a walking tour of what we've done so far. This included sharing what we've heard from engagement and workshops with Auckland's elected members, Mana Whenua, youth, our Independent Advisory Group, the Auckland advisory panels and NZ company CEOs. We also took them through a brief cruise of ClimateAKL.
Then, with images of 100% electric buses, green roofs and sustainable restaurants from ClimateAKL in their heads, we launched into facilitated sessions to unpack specific ideas, considering things like implementation, targets and high ambition.  The conversations were rich, the ideas linked up and people were engaged.  Afterward, I had two main observations.  First, my Chief Sustainability Office team did a truly impressive job creating and holding the space for the magic to happen.  Second, participants were revved up, committed and wanted to keep going.  It was palpable, audible and visible: people were having fun and were with us.
With that infusion of energy, we're prioritising and joining ideas with our working group, Independent Advisory Group and elected members.  We're also starting to organise the Auckland Climate Summit for early 2019, an event designed to further refine ideas, gather up support and showcase what we've collectively come up with.  We're also putting up more challenges on this site so you can help us refine and link up ideas – we look forward to incorporating your thoughts in our next steps!
Thanks again for your partnership in creating a bold, inclusive and integrated climate plan for Auckland.  We're making great progress!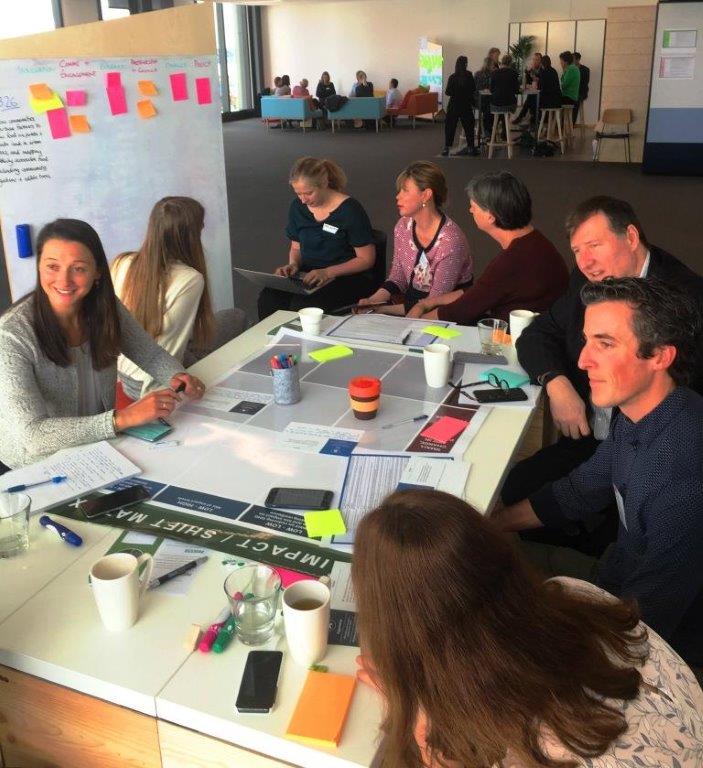 This post was edited on Oct 24, 2018 by Climate Action
Comments (3)
We must depoliticise climate change and democratise climate change action. How were these experts selected, what does 'experts from across sectors' mean - who is that? What did it take to get selected? Who selected these experts. Experts have been talking to experts, politicians to politicians, and scientists to scientists about climate change for 30 years... the answer doesn't lie in hegemony, but human and indeed PRIMATE engagement. Collecting our ideas and workshopping them among yourselves is a means to collect our IP, build exclusive systemic credibility, exclude us from the actual dialogue and decision making in accordance with your hegemony, and give yourselves scope to tell us later that we were part of the failed solution. Get real about solutions. 
You said "Each workshop had 40-50 experts".
How many of those "experts" were skeptical that CO2 causes catastrophic warming? There are many thousands of scientists who don't believe that CO2 is a problem. If you don't listen to the skeptics, you will arrive at completely the wrong solution and waste a lot of ratepayers' money.
If you don't allow skeptics to have a say, I reject anything that is decided.
Kia ora Jason and thanks for sharing your thoughts.
I don't believe we had any climate science deniers at those workshops, but we didn't really focus on that so, to be honest, I don't really know.  Instead, we were trying to tap experts from across sectors who were able to challenge our thinking and eager share their thoughts and expertise on how to build resilience to the impacts of climate change and help reduce emissions.  Better yet, we were trying to consider solutions that also brought positive social, environmental and economic outcomes.  
You're certainly within your right to disagree with what we're pulling together.  But it's my hope that the benefits, the overall cost savings and the range of thought and involvement that went into the drafting of the plan will make it quite compelling what needs to be done. 
All best
John
SIGN IN or REGISTER NOW to join the discussion