What makes a good life?  I bet there are a few billion opinions and answers to that question.  But I also bet we can agree on a few general things.  A good life requires some basics like food and water, safety and shelter.  A good life requires physical and mental health, social connections of some kind, and an ability to engage in civic decision-making.   And a good life – in most societies – requires some form of stable income to support transactions in goods and services, ideally tied to meaningful work and a sense of purpose and contribution.  It's this last one that usually gets cut short at "income" with meaningful and purpose stripped out.  And it usually boils down to money.
But while some might think money is atop the hierarchy of needs - or least that it can buy all the rest - living a good life armed only with money is a difficult and incomplete proposition.  It's also a difficult and incomplete way to run a society or a country – and the New Zealand Treasury has realised this.  Their thinking over the years has bubbled up more recently in their Living Standards Framework and the aim for the 2019 New Zealand budget to be a "Wellbeing Budget."  Don't take my word for  it – Prime Minister Jacinda Ardern says "I want New Zealand to be the first country to assess bids for budget spending against new measures that determine, not just how our spending will impact on GDP, but also on our natural, social, human, and possibly cultural capital too." 
Indeed, there are a tonne of "capitals" beyond financial capital.  The Treasury boils it down to four interconnected capitals: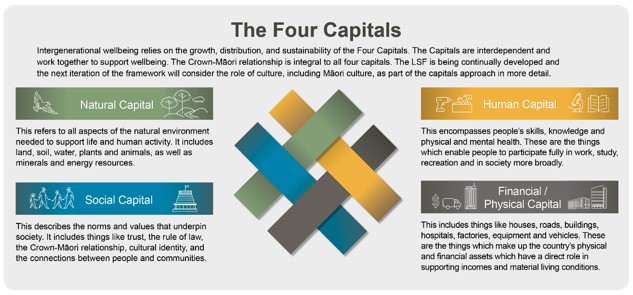 The point is that current decisions and actions might build financial capital while unintentionally eroding social or natural capital.  But it doesn't have to be that way.  Instead, our decisions and actions can and should nurture, build and restore these capitals so that they are in better shape for the future – and for future generations.
It's important that we get this right in Auckland's Climate Action Plan.  One smart action could actually deliver a range of benefits.  For instance, growing and enhancing Auckland's urban forest doesn't just mean healthy trees for healthier air and water.  An urban forest can help bring people together by improving the streetscape, roofscape (!), or other public spaces for them to meet, gather or celebrate in.  An urban forest can help attract people to economic centres, resulting in better retail and attracting new skills and talent into Auckland.   An urban forest can also help address public safety and unequal access to green space across Auckland's communities.
We need to challenge ourselves to make smart decisions that deliver a range of economic, social, cultural and environmental benefits.  I challenge you to bring those ideas forward on ClimateAkl.co.nz.  And please challenge us right back so our decision-making delivers a good life for us and for future generations of Aucklanders.
SIGN IN or REGISTER NOW to join the discussion